Antique edged weapons such as swords, knives, dagger, bayonets and others have been collected as far back as they have been used in the battlefields around the world. They are a very extensive field of militaria and other military antiques collecting. Collecting edged weapons is a pure joy for the enthusiasts of the genre who not only like the hunt for that special sword that is missing for their collection but also enjoy the history and art which it embodies. Edged weapons are usually divided into three major categories: combat, hunting and ceremonies. Each category has an array of sub-categories which categorize the edged weapon according to its use for example stabbing, hacking, slashing, etc. Collectors usually focus on antique edged weapons collecting items from a specific world region, period, style or use. For example some antique edged weapons collectors focus on Japanese samurai swords, Russian Shashka swords and Caucasus Kindjal dagger, European bayonets or American bowie combat knives and so on. Collecting knives, swords and other edged weapons, especially antique ones, reveals a lot of information about the culture of the time. Ceremonial edged weapons such as Indonesian Kris daggers have religious motifs made into them. Hunting knives are made with a special purpose for each knife such as stabbing the animal, slashing it or cutting its meat.
Throughout history sword makers and other edged weapon makers have made an effort to make their products not only sturdy so that they can be battle ready but also beautiful and worthy of taking care of thus making antique edged weapons such a huge field of collecting for centuries. Many swords, daggers, bayonets, knives and others were kept by the owners and later their families for centuries. This was very evident in WW2 Japan for example where many katana blades originating from samurai, some a few centuries old, were fitted with Japanese military furniture so that they can be carried by their modern soldier relatives while in military service. Once Japan surrendered, a huge quantity of katana and other swords were destroyed by the occupying American forces and many were taken back to the US with soldiers as souvenirs. Some of these katana swords are pure works of art made by the finest sword makers of their times, some of these will be lost forever in history.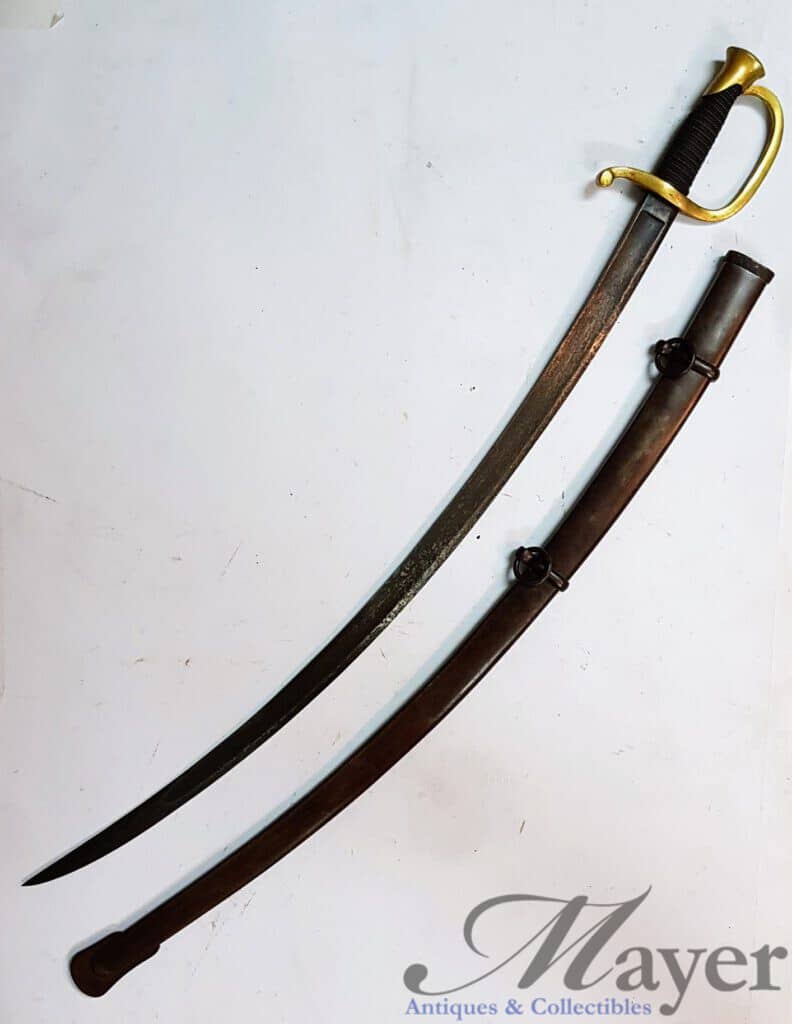 Mayer Antiques & Collectibles seeks to offer a constantly updated stock of swords, dagger, knives, bayonets from around the world and from different eras so that enthusiast of collecting antique edged weapons will have a wide variety to choose from and purchase. Each antique edged weapon that we purchase for our inventory is an item that we would like for our own collection. We usually do not purchase mass produced items such as military bayonets, some of which were produced in the hundreds of thousands in a single model, since we do like the more unique. However if an opportunity arises in which we can purchase a stock in a competitive price than these competitive prices are transferred to our clients so that they may purchase an item for their collection.