Military surplus and collectibles of military memorabilia, personal gear such as optics and mounts, gun parts, military surplus bayonets, and others. Military surplus and collectibles for sale.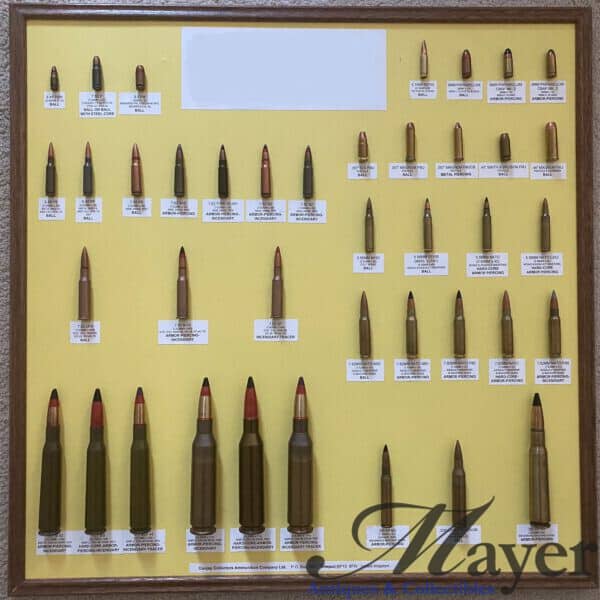 A beautiful, professional and diverse small caliber ammunition identification display plaque featuring popular NATO and Russian calibers, rarely seen in one display.  The ammunition displayed is all real and has been demiled by a professional armorer.  Due to some regulations the original incendiary bullets can't be exported and so a replicated incendiary round has been made for each caliber.  This ammo display plaque can be used by defense companies for exhibitions or marketing presentations, military and law enforcement units for educational purposes, gun stores for display, and for shooting enthusiasts and mancave design ideas.  Each round has a small description for it.
This small caliber ammunition display plaque features the following calibers:
5.45mm x 18 PSM Ball
7.62mm x 25 Tokarev Ball
9mm x 18 Makarov Ball
FN 5.7mm x 28 SS190 Ball
9mm x 19 Ball
9mm x 19 CBAP
AP Mk2 x 2
5.45mm x 45 PS Ball
5.45mm x 45 PP (7N10) Ball
7.62mm x 39 PS Ball
7.62mm x 39 SKE AP
7.62mm x 39 Type 56 API
7.62mm x 39 BZ API x 2
.357" SIG Ball
.357" Mag Ball
.357" Mag Metal Piercing
.40" S&W Ball
.44" Mag Ball
7.62mm x 54 LPS Ball
7.62mm x 54 B-32 API
7.62mm x 54 ZP IT
5.56mm x 45 M193 Ball
5.56mm x 45 SS109/M855/L21A1 Ball
5.56mm x 45 APHC
5.56mm x 45 L2A2 APHC
7.62mm x 51 M80 Ball
7.62mm x 51 M61 AP
7.62mm x 51 P80 AP
7.62mm x 51 APHC
7.62mm x 51 P186 API
.30"-06 AP-M2
.338" Lapua Mag Ball
12.7mm x 99/.50" Browning AP
12.7mm x 108 B-32 API
12.7mm x 108 BS APIHC
12.7mm x 108 BZT-44 APIT
14.5mm x 115 B-32 API
14.5mm x 114 BZT-44 APIT
14.5mm x 114 BS41 APIHC
This is one of the most comprehensive small ammunition identification display plaques in the market.  Purchase it today!